File Monitoring and Access Auditing
PA File Sight is a file monitoring software that will help you determine things like:
When a file or folder was deleted
Watch for log file modifications, useful for PCI DSS file integrity monitoring (FIM)
Who deleted or moved files or folders (Active Directory/Domain user name)
Which computer they read/wrote/deleted the file or folders from (IP address* and computer name)
Who is reading and writing sensitive files
When a new file or folder is created, renamed or moved
* IP address reporting requires client and server to both be Windows 7 / 2008 R2 or newer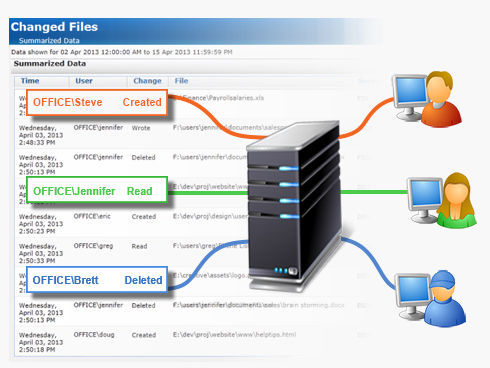 The Ultra Edition supports saving this data to a database, which then allows for rich reports. Read more about the difference between Ultra and Lite.
File Auditing Features
File Monitoring:
All files or just a subset
File and folder creation, deletion, access (reads), changes (writes)
File and folder permission changes
Successful actions and well as failures
Real-time monitoring that does not require enabling system audit events
File Integrity Monitoring (FIM)
Proves log files are only appended to, and not changed in the middle
Alert if the an unexpected user or process changes files
Alert Details:
User account, including domain/Active Directory
User IP address* and computer name
Target file and folder
Activity that was done to the file (read, write, delete, ...)
Date and time of action
Reporting (Ultra edition only):
Report on specific users, files or activity (file delete for example)
Report on specific time range
Configurable data retention period
Reports in text, HTML, .CSV or PDF formats
File Access Auditing Compliance
Many compliance mandates require auditing file access and ensuring file integrity. PA File Sight can help meet those requirements, including those listed below:
PCI (Payment Card Industry) DSS 10.5.5, 11.5, 12.9.5
SOX (Sarbanes-Oxley) DS5.5
GLBA 16 CFR Part 314.4(b) and (3)
HIPAA 164.312(b)
FISMA AC-19, CP-9, SI-1, SI-7
ISO 27001/27002 12.3, 12.5.1, 12.5.3, 15.3
Detect Log File Tampering
PA File Sight can monitor log files. It can alert on writes (changes) to the middle of files, but ignore the expected appends to the end of the log files. This lets you detect log tampering.
Learn more about PA File Sight