What is Agentless Network Monitoring?
Network Monitoring is monitoring the health and status of servers and devices on a network. Some solutions require a software agent to be installed on each monitored device. Agentless Network Monitoring will do the same monitoring, but does not require any software installed on target devices or servers. Agentless network monitoring is generally preferred because it requires no configuration changes to the target device, and does not add one more piece of software that has to be managed.
Agentless Network Monitoring with PA Server Monitor
PA Server Monitor is an agentless monitoring solution. It monitors servers and devices across the network using standard protocols such as SNMP and HTTP, and also device-specific protocols such as the Windows Performance Counter and Event Log protocols.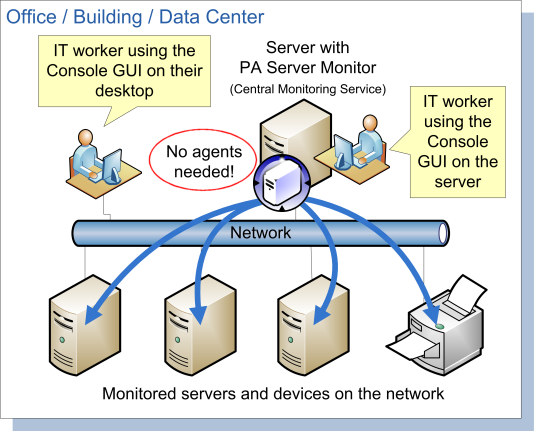 »» Click for more information about PA Server Monitor ««